Avoid the wait at the doctor's waiting rooms. MedAdvisor has been designed using state-of-art internet and mobile phone technology to provide you with a tool that ensures you use medication safely, effectively and on-time from the convenience of you home.
My Chemist recommended I try this MedAvisor to manage my son and I's medication regime. My son has special needs and is on a plethora pills put together in a Webster pack every two weeks.  I was constantly running back and forth to doctor's and the chemist to get scripts filled and up to date. I also have a very short attention span and forget to update the scripts.
This is a great app I use and recommend for managing your health needs from home. It saves a lot of running around and waiting in lines.
With the outbreak of the virus in 2020, it's even more reliable to get meds sorted and still maintaining social distancing rules.
MedAdvisor has 8 Functionalities.
Automatic Medication List
Fill-My-Scripts & See-My-Doctor
Take-My-Meds
Tap-To-Refill
Medication Information
Carer Mode
Your Virtual Pharmacist
Script History
Favourite Pharmacy
GP Link
MedAdvisor's home screen provides an automatic list of all your prescription medications, updated whenever you fill scripts. Whenever you fill a script your home screen is updated, typically within one hour.
The home screen provides basic information including the active ingredient and brand name of the medication, total repeats you have remaining, and the expected days' supply remaining.
The traffic light colour code warns you when your days' supply is low or you're out of supply, as follows:
Tapping any medicine will take you to the screen for complete information about that medication, settings, scripts records and more.
Non-Prescription Meds or Vitamins
You can also create your own reminders for your non-prescription vitamins and other supplements. For example, MedAdvisor can remind you when you're running low on your daily Vitamin C supplement.
Non-prescription items are not automatically updated. You must specify the number of days' supply you have if you'd like to receive a reminder when you need to replenish your supply.
Green indicates you have sufficient medication left.
Yellow indicates you're running low.
Red indicates that you have no medication left, and may need to visit your doctor or pharmacy.
Fill-My-Scripts
Fill-My-Scripts automatically reminds you when to fill your recurring scripts, and chases you up if you forget.
When you are close to running out of a medication, MedAdvisor will send you a message providing information on the medication running low.
MedAdvisor knows when you fill scripts so it will only send these messages if you haven't filled your script five days before your medication runs out. If you don't fill the script and don't mark this medicine as 'Finished', MedAdvisor will remind you again on the day the medicine runs out, and again when you've been without medication supply for three days as a final chase.
Reminders arrive as push notifications (pop-ups) on your mobile device, or via email for PC/web users of MedAdvisor.
Fill-My-Script messages include a button to add the item to a Tap-To-Refill order, so you can easily order your replacement medication for that item. You can also edit the days' supply remaining if you have more/less supply than indicated or can mark the medicine as 'Finished' if you're no longer taking it.
See-My-Doctor
See-My-Doctor reminds you when you'll need to see your doctor for new scripts.
When MedAdvisor detects that you have no repeats left for a long-term medication it will suggest you see your doctor for a new script two weeks before you take your last dose of that medicine. This gives you time to ensure you get to your doctor before you run out.
You can mark that you have a new script (if you already have a replacement script) and MedAdvisor will not remind you further until after you've filled your next script.
Script Expiry Warnings
If your script for a long-term medication is about to expire, MedAdvisor will warn you two weeks before the expiry. You may choose to fill the script/repeat before it expires, or you may need to see your doctor for a replacement script. (typically prescriptions are only valid for 6 or 12 months in Australia).
Note that script expiry warnings are not offered for certain restricted medications (S8 class).
Take-My-Meds
Take-My-Meds reminds you when to take specific medications each day, at the appropriate times of the day.
The optional Take-My-Meds feature lets your smart phone or tablet alert you every time you're due to take medication. The notifications include details of exactly which medications are due at that time.
Alerts can be set daily on certain days, or on weekly, monthly or annual schedules. Short or long/persistent alert sounds can be included. On Android devices a full-screen alert is available, and the alert sound can be customised.
This feature is only available on Apple and Android mobile devices.
Tap-To-Refill
Order prescriptions with a tap so they're ready to collect at the pharmacy – no waiting!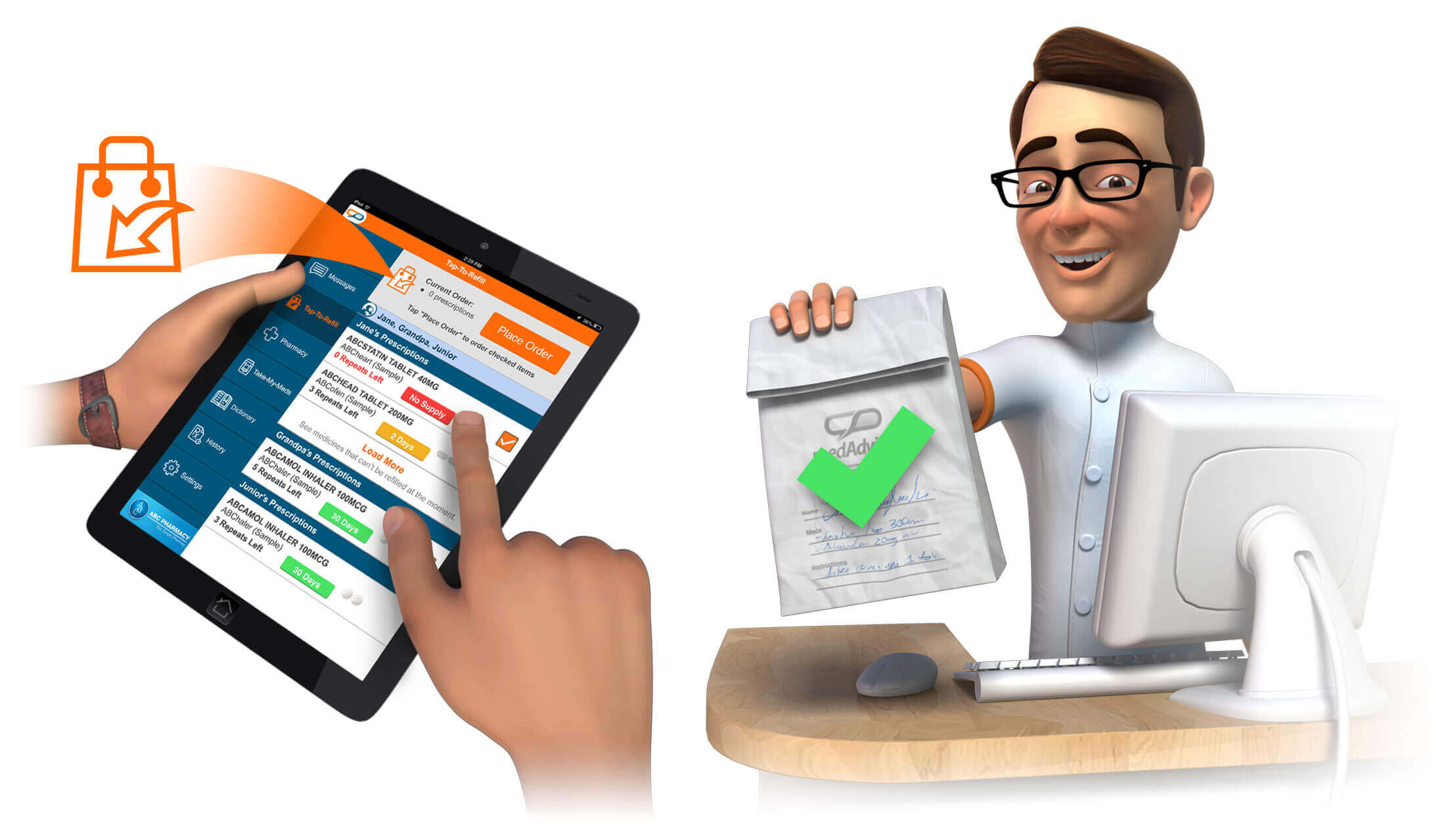 Using the Tap-To-Refill feature, you can order prescription repeats to be dispensed in advance at your favourite pharmacy. Order one or many medications in the one order.
You'll receive a message from the pharmacy as soon as your medicines are ready to collect. When you arrive at the pharmacy your scripts are ready to go!
Remember you MUST leave your prescriptions on file at the pharmacy to allow the Tap-To-Refill feature.
Your pharmacist needs to check the paper prescriptions before dispensing your medication.
Snap-n-Send
If you have a new prescription that you haven't taken to the pharmacy yet, you can send a photo of it to the pharmacy so that medication can also be dispensed in advance of your visit.
Look for the Snap-n-Send area in the Tap-To-Refill screen and tap the Take Photo button to start.
This feature is only available on Apple and Android mobile devices.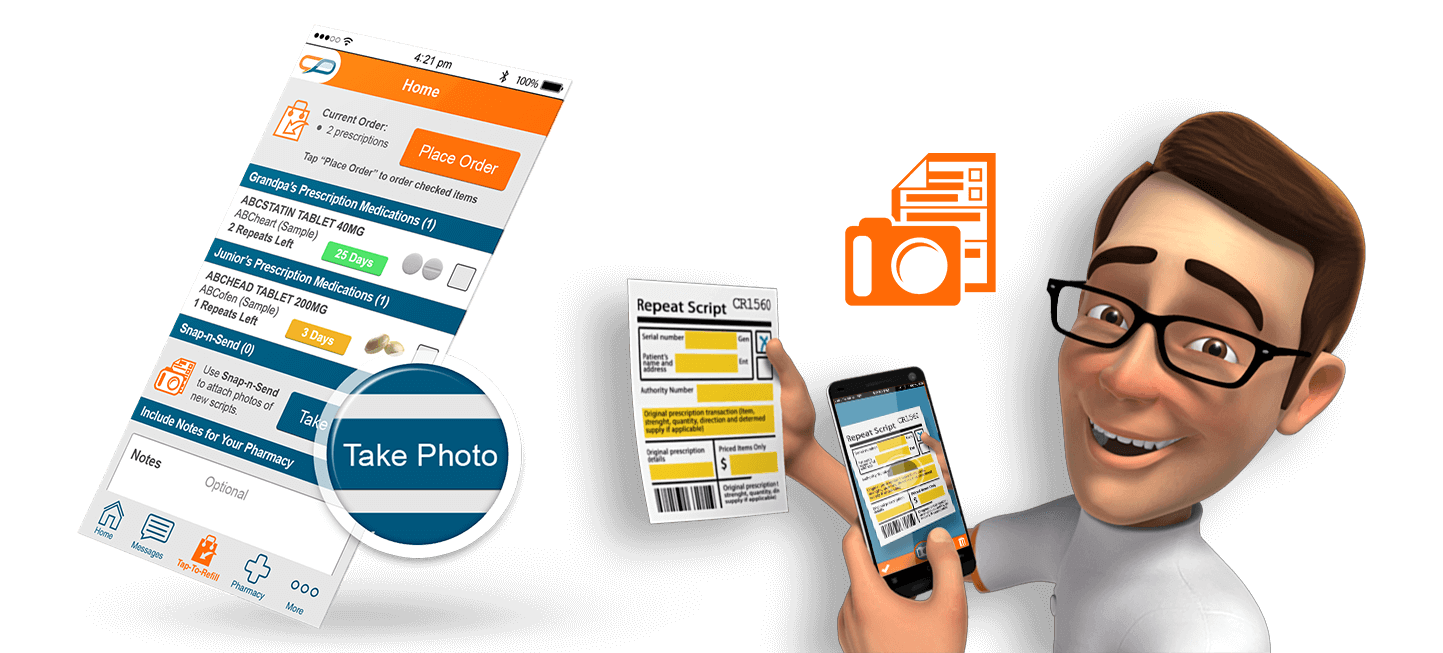 Medication Information
Full information for all your medicines in easy-to-access sections, so you can quickly learn more.
For all your prescription medications MedAdvisor offers detailed, personalised information.
The Medicine Details screen shows:
The active ingredient, brand name, strength and form (e.g. tablet, capsule, inhaler) of the medication.
An image of what the medication looks like, for all common tablet and capsule form medications.
Personalised directions (from the pharmacist). This will match the label stuck to the medicine box or bottle.
Full details of scripts and repeats – read more here.
Days supply indicator. This is updated with additional days whenever you fill your script, but can be edited at any time.
Consumer Medication Information (CMI)
The full manufacturer information for the product is provided at the bottom of the screen, in easy fold-out sections. Look up important facts like:
Common Uses
How-To-Use Guide
Cautions/Warnings
Possible Side Effects
Safety Checks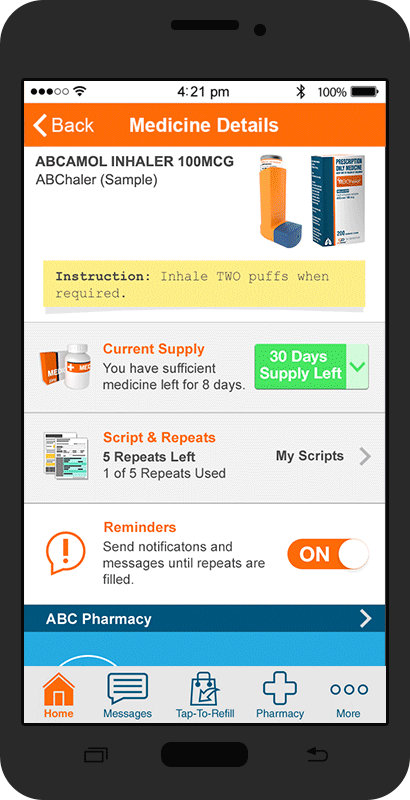 Medication Training
For selected prescription medications MedAdvisor offers additional training and information to assist you.
For these products the Medicine Details page may include the product logo, images of the device or box for the product, helpful tips or links to additional training.
For selected products you may also receive training messages providing additional advice such as:
How to properly use the medication
The benefits and importance of regular use
What to do if you miss a dose
How to manage problems with the medication
How to best manage your health condition
Coping with side effects
And other helpful tips…
You can opt-out of such messages at any time with the switch at the bottom of the message.
Carer Mode®
Manage the medication of other family members from within your MedAdvisor account.
With Carer Mode® , you can add the medication profiles of multiple family members and access all their medications, and all other MedAdvisor features, from a single account.
It's great if you organise the prescription medication for your kids, spouse or elderly parents.
Your family members' medications will appear in their own sections on the MedAdvisor home screen, and all other features are provided including all reminders and messages. With Carer Mode® messages and other features will clearly indicate which family member they relate to.
To get started, your pharmacist simply issues you with additional activation codes, one for each family member to be added to your account. The additional activation codes can be entered as part of activating your account initially, or cared for family members can be added at a later date in the Settings area.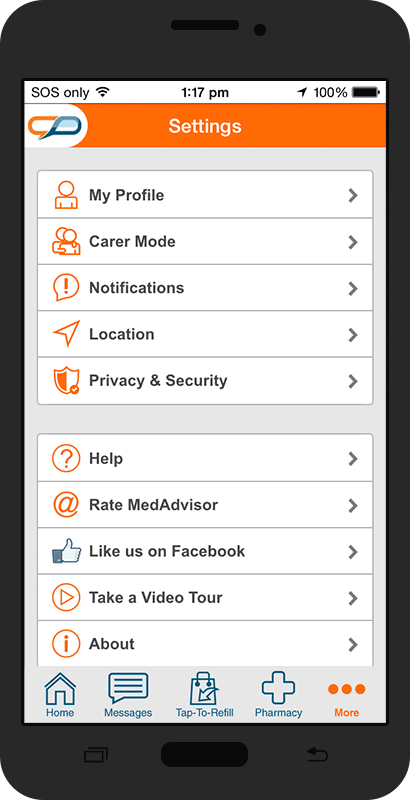 Pharmacists must collect appropriate consent from each individual you wish to add to your MedAdvisor account, before they generate their activation code. This is important because each activation code allows your MedAdvisor account to access the personal records of prescribed medications for that individual, which is potentially sensitive data.
'Appropriate consent' typically means the cared for family member is present in the pharmacy and their identity can be verified OR that they consent via a paper form your pharmacy may provide.
For children under 16 years of age, the parent or legal guardian can request activation codes without consent.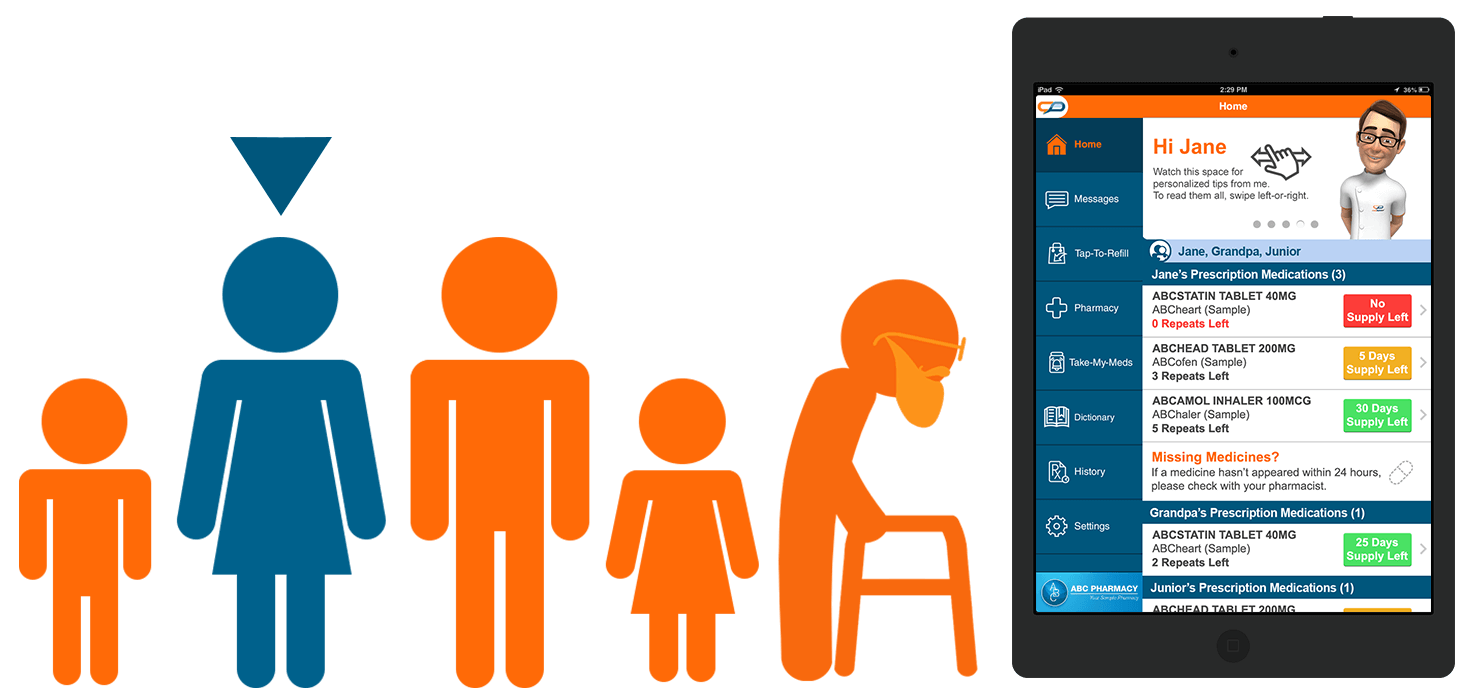 Pharmacist Phil, Your Virtual Pharmacist
Pharmacist Phil provides personalised tips and reminders.
Pharmacist Phil lives on your home screen and prompts you with important actions – like reminding you that you need to fill repeat scripts, see your doctor for new scripts, have new unread messages or that you have other tasks to complete.
Phil appears in your MedAdvisor messages – if he's looking worried, it could mean you're overdue to fill a script!
Phil will also occasionally suggest MedAdvisor features that could be of interest.
Script History
Browse details of all your prescriptions and past repeat dispenses.
MedAdvisor provides you with a complete view of all your current and historic prescriptions for each prescription medication. The Scripts & Repeats area of Medicine Details provides a complete picture of your current scripts (i.e. those that can still be dispensed from).
For each script you'll see:
the medication name, type and strength
the number of repeats left
the script expiry date
the script status: New (unused), Active (has been used), Finished (no repeats left), Expired, etc.
The same information can also be seen for your historic scripts, i.e. old scripts that have been completely consumed or have expired. Just tap Load Prescription History.
Each script entry can be expanded to show the individual dispense instances, including the location, date and quantity dispensed by your pharmacy every time you've had that script filled.
Favourite Pharmacy
Details and contact information of your 'favourite' or regular pharmacy are easily accessible in the Pharmacy screen of MedAdvisor, and are highlighted elsewhere in MedAdvisor, for example in messages that prompt you to visit or contact your pharmacy.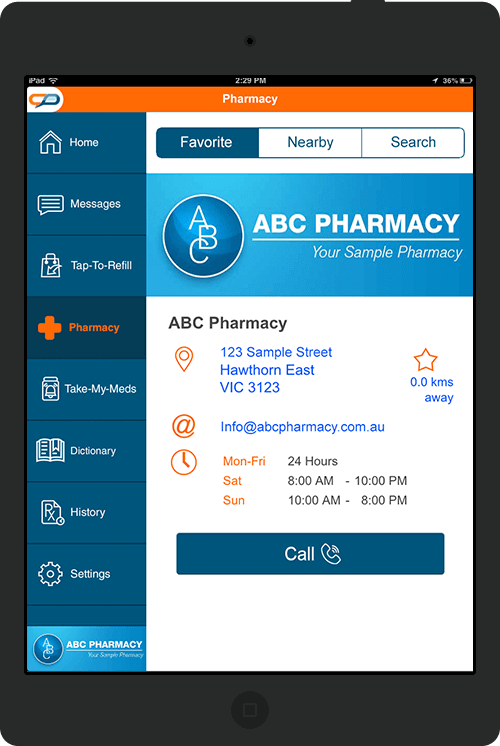 You can easily see their opening hours, address, phone number, email (tap to call them) and other services your pharmacy offers.
By default the pharmacy that first enrolled you in the MedAdvisor program will be set as your favourite pharmacy.
Pharmacy Locator
If you need to change your favourite pharmacy, for instance if you move house or work, you can search for other MedAdvisor network pharmacies using the Pharmacy Locator, in the Nearby or Search tabs. Search for those nearby your current location, or use Search and enter a postcode, suburb or state. You can change your favourite pharmacy with the button provided below each entry – although you'll need to visit your new pharmacy with all your scripts to allow Tap-To-Refill ordering.
If you're travelling, it's recommended that you visit other MedAdvisor pharmacies if you need to fill scripts. This ensures your records in MedAdvisor will always stay up-to-date. Note you don't need to change your favourite pharmacy just because you want to fill scripts temporarily at another pharmacy – your records will still update provided the pharmacy is a MedAdvisor network pharmacy.
GP Link Service
Overview
GP Link is MedAdvisor's script renewal service, allowing you to request a script renewal (also referred to as a 'repeat prescription') directly through the MedAdvisor app and website from an Australian certified and registered doctor. That doctor can be your regular doctor, where they have signed up to be part of MedAdvisor's GP Link service, or, where your regular doctor is not available, you can choose to request a script renewal through the MedAdvisor app and website from an On-Demand GP.
To access GP Link, click on the GP Link menu item in MedAdvisor.
How do I start ordering scripts?
Step 1: Link your Doctor to your MedAdvisor account (click to view)
Step 2: Order your new prescription (click to view)
More Questions?
Visit our FAQ page and scroll down to GP Link.